Cloud computing is increasingly growing across all industries, setting newer and better employment prospects. Professionals with the roles of developers and cloud architects, as well as security professionals and data scientists, are all candidates for these positions. With the help of the CLX program, attendees can get the practical knowledge, skills and confidence needed to pass the Microsoft Azure, AI, and DP Fundamentals certification. 
The Microsoft Connected Learning Experience (CLX) Program consists of four steps that will act as the pillars to achieving Azure Fundamentals certification. The content of this program focuses on providing a personalized learning path based on the skills each attendee possesses and is tightly aligned to the AZ-900, AI-900, and DP-900 certification exam objectives. 
How does the CLX program work?
The CLX program consists of 4 steps. They are listed below: – 
This 30-minute pre-test will help you in identifying and understanding the various exam modules for improvement. Furthermore, it will help you with a personalized learning path and provide the required MS Learn documentation links for your reference. 
Based on the knowledge assessment taken, an individual learning path will be generated for you. This learning path will be personalized and will enable you to focus on the concepts that require improvement the most.  
This 2-hour practice test is designed to give you a complete experience of the actual certification exam. This test includes various types of questions from all modules with appropriate weightage. Complete answer keys along with their explanations and reference links will be provided at the end of the test. 
This is a virtual instructor-led interactive training session that will enhance your knowledge and skills needed to pass a Microsoft Azure Certification Exam. 
These four-hour sessions will cover the full syllabus of a course and will be delivered once every week starting from 24th April 2022. 
Once the four stages are complete, you will find yourself fully prepared to take the actual certification exam.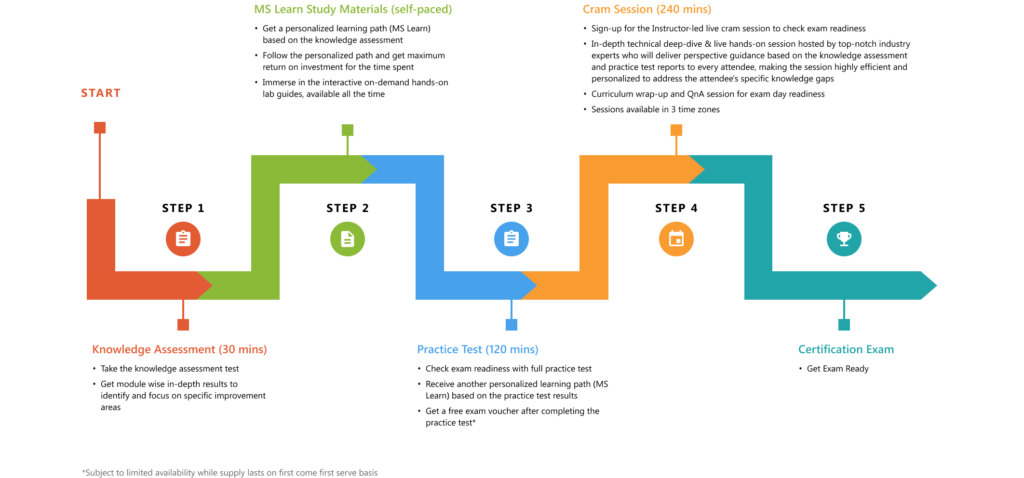 Who is this program for?
CLX program is for ideal for learners who want to take the certification exams for Microsoft Azure Fundamental courses such as AZ-900, AI-900, and DP-900. 
What are the benefits of CLX program? 
As a learner, you can leverage the following benefits with the CLX program:  
Customized learning path based on your certification track selections & your learning capabilities

 

Module wise in-depth results to help you focus on improvement areas

 

4 hours instructor led cram sessions available in 3 different time zones

 

Free exam vouchers for qualifying participants

 
What are the courses present at the program? 
There are three Microsoft Azure Fundamental courses present in the CLX program, including: – 
AZ-900: Microsoft Azure Fundamentals

 
Azure Fundamentals exam tests your knowledge of cloud concepts, Azure services, Azure workloads, security, and privacy in Azure, as well as Azure pricing and support. To pass this exam, candidates should be familiar with the general technology concepts, including concepts of networking, storage, compute, application support, and application development. 
AI-900: Microsoft Azure AI Fundamentals

 
Azure AI Fundamentals exam is an opportunity to demonstrate your knowledge of common ML and AI workloads and how to implement them for Azure. 
This exam is intended for candidates with both technical and non-technical backgrounds. Experience in data science and software engineering is not required; however, some general programming knowledge or experience would be beneficial. 
DP-900: Microsoft Azure Data Fundamentals

 
Azure Data Fundamentals exam is intended for candidates beginning their professional journey with data in the cloud. 
Candidates for this exam should have foundational knowledge of core data concepts and how they are implemented using Microsoft Azure data services. Familiarity with the concepts of relational and non-relational data, and different types of data workloads such as transactional or analytical is required. 
When is the program scheduled to begin? 
Live cram sessions will start from April 24th, 2022. 
How to register for the CLX program? 
Open a web browser and head to the 

Microsoft 

CLX home page

: 

https://clx.cloudevents.ai

. 

 

Click on Sign in.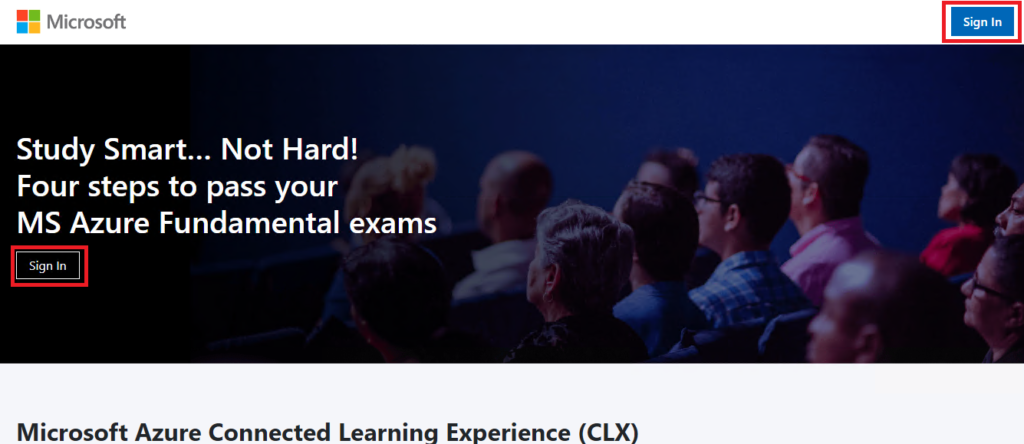 How to add/manage tracks? 
Click on Manage My Tracks option present on the right side of My Tracks page.

 

Manage My Tracks dialog box will be opened. It will list down all the available tracks for you to learn.

 

Select the tracks that you want to learn

 and click on Done

.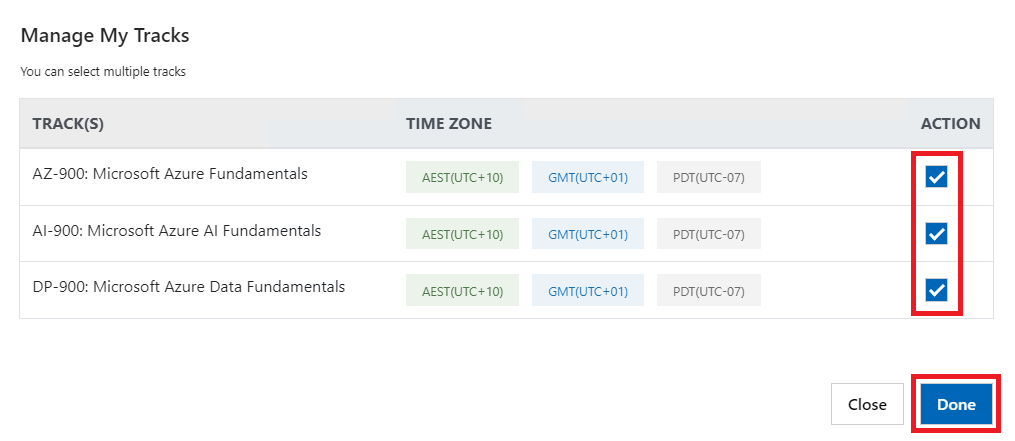 Study Smart… Not Hard!
Get exam ready today!
Microsoft CLX program aims to help learners to prepare for the Microsoft Azure certifications in a robust and efficient way.  
We believe connected learning will be an ideal educational model because it helps all learners and professionals aspiring to get MS certification achieve success. It introduces a more efficient learning path for exam readiness. Also, connected learning models give trainers more opportunities to create memorable learning experiences. 
Aspiring learners and professionals can test their knowledge with the help of knowledge assessments, prepare for the exam using MS Learn study materials, take the practice tests to get exam ready, and join the cram sessions to get proper guidance from a variety of expert speakers. 
Register yourself for the Microsoft CLX program right now! 
For program related queries, reach out: cloudlabs@spektrasystems.com
This blog was originally published on CloudLabs.