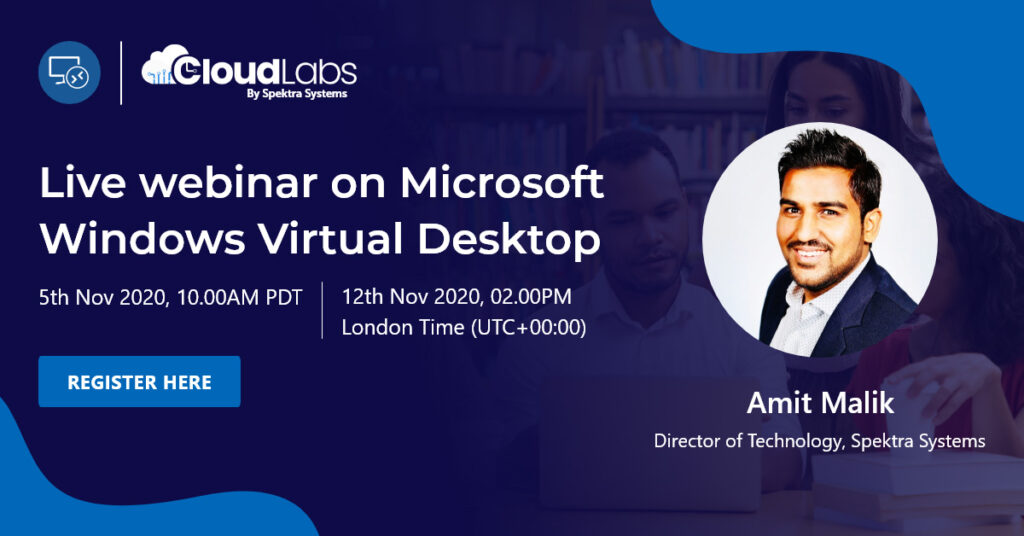 Windows Virtual Desktop is a desktop and app virtualization service that runs on the cloud.
Spektra Systems would like to invite you to the webinar where we showcase key WVD capabilities. You will learn how WVD can benefit your organization with effective and secure remote work capabilities.
Every participant will also receive access to a hands-on lab environment for 8 hours, where they can experience WVD both from an end-user and administrator perspective.
Agenda:
Microsoft WVD Overview.
How can WVD help your organization?
Key Design Patterns.
WVD Demo.
Experience WVD – Try out our free Hands-on Labs.
QnA.
Schedule 
Participation is free of charge, but requires registrations. You can register for one of the schedule mentioned below.
12th Nov 2020, 02.00PM London Time:
We're excited to show you the power of Microsoft Windows Virtual Desktop. 
Thank you.
Disclaimer: 
"NOTICE TO ALL PUBLIC SECTOR OR STATE-OWNED ENTITY EMPLOYEES – Federal [including Military], State, Local and Public Education
This is a Microsoft partner event. Should items of value (e.g. food, promotional items) be disbursed to event participants, these items will be available at no charge to attendees. Please check with your ethics policies before accepting items of value.

Spektra Systems is a Microsoft Gold Partner, Spektra CloudLabs platform is a Microsoft authorized lab hoster.